Chief Strategy Officer Retreat
YES, I am in and hiring Judi Rhee Alloway and the Imagine Team at Imagine Leadership, LLC, to become my Chief Strategy Officer! I am ready to be coached, consulted and mentored to benefit from her research, her experience, her advice, and her network.
I know that the Chief Strategy Officer Package payment is investment. My expenses might be tax-deductible. I'll contact my accountant to verify what I can and can't deduct.
Unfortunately only 2 people maximum can be entered on our Chief Strategy Officer Retreat Application.
For your convenience, you can pay for up 30 members of your group, organization and/or family here.
Please refer to the table below for the number of people to figure out your total investment.
How many people are joining you? 1+___ = Total Number of People
Are you applying for the Early Bird or Regular Investment? Early Bird is $7.497 per person. Regular is $7,997 per person.
Multiply the total number of people by the Early Bird or Regular Investment to calculate your Total Investment.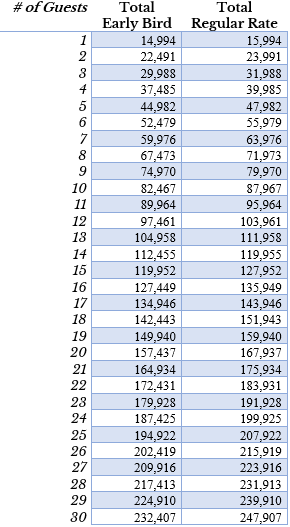 What Does the Investment Include?
7 Day/6 Night 5 star Hotel accommodations
3 Gourmet Meals for 7 Days/6 Nights (minibar drinks, minibar snacks, and in-room movies are not included.)
Round Trip Transportation To/From DPS Airport
6 3 Hour Morning Strategic Planning Sessions
6 1 Hour Evening Strategic Planning Sessions
Round Trip To/FromHotel Transportation and Afternoon Activities Options:
Family – Includes Babysitting for Morning Strategic Planning Sessions (Excludes Additional Kid-Friendly Afternoon Activities). Kids are Invited on Group Trips with Chaperon or Adult.
Romance for Couples
Pool/Beaches (Private Cabanas, drinks, snacks, pictures, and additional towels/robes are not included.)
Cultural/Shopping with Local Tour Guide (Shopping Sprees, Gifts & Incidental Expenses are not included.)
Sunset Walks/Bonfires – weather dependent.
All incidental expenses are not included.